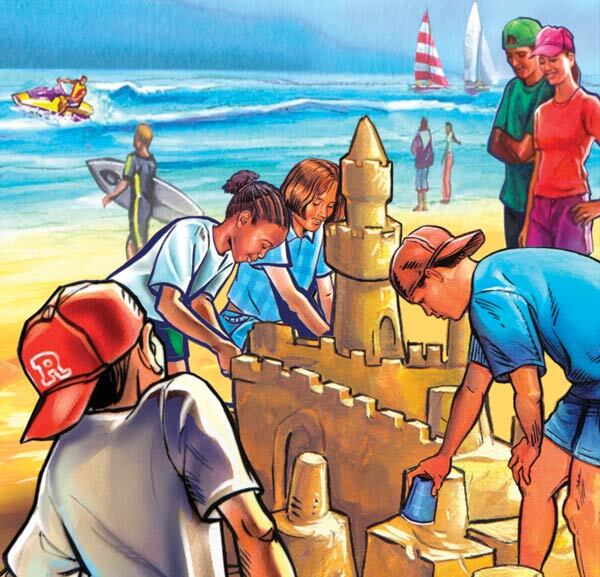 "Hey, Tanya! Let's do something crazy. Let's make the biggest sand castle this beach has ever seen!" Ron said.
Ron's family was celebrating the Fourth of July by camping on the Oregon coast. They were delighted that Tanya, a friend from Russia, could join them.
It was a perfect day. The sand was warm and clean. The waves were as white as polished teeth. The sky looked as if God had spilled a giant bucket of deep blue paint. They felt as though they had fallen into a postcard.
Then they had this wild idea—to create the biggest sand castle the beach had ever seen.
"How would we begin with your biggest-sand castle idea?" Tanya asked.
"Watch this." Ron marked a huge circle in the sand with his toe. Then he moved out five feet and made a second, even bigger, circle. "Here's the deal," he announced. "Let's dig all the sand from between the circles and throw it into the center. Then we'll use it to build a giant castle."
Tanya grinned. "We could never finish it. It's too big."
"We won't do it alone."
"Who will help us?"
"I don't know. Surely somebody will."
No sooner had they started digging than a couple walking by noticed their circles. "What are you doing?" they wanted to know. The expression on their faces said, "Tell me you're kidding!"
"We're building the biggest sand castle this beach has ever seen."
"Cool! Can we help?"
"Sure!"
Soon someone else stopped to help, and before long whole families joined the fun. Over and over they gave the invitation to those passing by, "Hey, you guys! Get over here! We're making the biggest sand castle this beach has ever seen!" Ron's job quickly changed from worker to construction foreman.
A man walked up to where they were working, folded his arms, and watched. He had muscles like a bricklayer's; his butch haircut looked like a welcome mat. "You all need some tools," he announced, "like a shovel."
"Can you bring us one?"
He returned a few moments later with a driftwood log. "I couldn't find a shovel, but how about this?" He thrust it down repeatedly, breaking up the sand and making it easy to scoop up and move.
At one point thirty-five people swarmed around the castle like ants repairing their hill. In three hours the mission was accomplished. They all felt proud. Tanya's smile was so big she could have eaten a banana sideways.
After all, she was part of the crew that had built the biggest sand castle that beach had ever seen!